5 Vet Recommended Flea and Tick Treatments for Dogs
Fleas and ticks cause major problems in the lives of pets; they feed on your pet's blood, cause discomfort to them, transmits dangerous diseases and also infest your house. Hence, it's very crucial to administer the right parasitic preventive to your furry pal. There are plenty of flea and tick treatments available in the market. Every product has different efficacy and results, thus it's best to go with the most recommended and trustable flea and tick treatment. Thus, below are top 5 treatments that are recommended by vets around the country.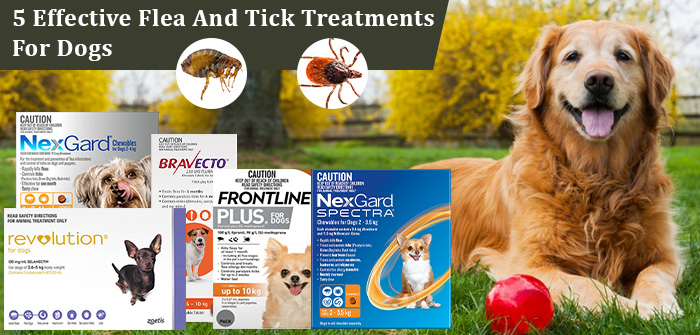 Top 5 Vet Recommended Flea and Tick Treatments for Dogs
REVOLUTION – Manufactured by Zoetis, the monthly spot-on is extremely popular for its all-round treatment
Selamectin is an active ingredient in the treatment
Revolution eradicates >98% of the fleas within 36 hours of administration.
Also treats Sarcoptic mange
Prevents Heartworms and treats intestinal worms like hookworms and roundworms
Dogs older than 6 weeks can be treated with this treatment
Prevents re-infestation of fleas
Frontline plus – Manufactured by Merial ( Boehringer Ingelheim)
Fipronil and (S)-Methoprene are the two active ingredients
Frontline Plus is a monthly spot-on that destroys fleas and ticks within 48 hours of application
Ticks are neutralized including the deadly ticks like brown ticks, and paralysis tick (up to two weeks)
Terminates all life stages of the parasites for 4 weeks straight
Kills by contact thus sparing your pet from painful bites
Helpful in treating Flea Allergy Dermatitis (FAD)
Kills chewing lice and aids in the treatment of sarcoptic mange
Safe to use on dogs older than 8 weeks of age
Can be successfully used on breeding and lactating dogs
 NEXGARD SPECTRA – Merial( Now Boehringer Ingelheim) produced this product with a vision to provide a broad spectrum treatment for its customers
Apt combination of Afoxolaner and Milbemycin oxime as active ingredients
Wide spectrum one monthly beef flavoured chew
Controls (Paralysis ticks, Brown Dog ticks, Bush ticks) infestations for 4 weeks
Eliminates fleas for 5 weeks
Nexgard Spectra treats gastrointestinal worms like roundworms, whipworms, and hookworms
Safe to use on puppies more than 8 weeks of age
Prevents heartworms
The safe use of Nexgard spectra is still not evaluated in breeding and lactating dogs
Safe to use in all breeds including collie breeds
Do consult your vet before administering, if your dog has a history of epilepsy/tremors/ ataxia/ seizures
 NEXGARD – Afoxolaner is the active ingredient
Manufactured by Merial( Now Boehringer Ingelheim)
Easy to administer beef flavored monthly treatment
Effective against Brown dog tick (Rhipicephalus sanguineus), paralysis ticks and Bush ticks
Terminates fleas and kills them before they can lay eggs
Starts showing effect within 8 hours of administration and kill 100% fleas within 24 hours of administration
Safe to use on pups more than 8 weeks of age
It is also safe for all breeds
Do consult your vet before administering, if your dog has a history of epilepsy/tremors/ ataxia/ seizures
 BRAVECTO – Manufactured by MSD Animal Health
3 monthly flea and tick treatment for dogs
Terminates fleas in 8 hours of administration
Kills paralysis ticks in 24 hours of dosage
It is effective for 4 months in dogs for paralysis ticks
Fluralaner -the active ingredient present in this chew
Highly palatable and easily accepted by dogs
For all dog breeds along with pregnant and lactating dogs
Easy on the pocket and since it is a 3 monthly oral treatment, it reduces the chances of non-compliance
Before choosing any treatment, make sure you consult your vet and understand which treatment will be most effective for your pooch. The above mentioned products are trusted by pet parents thus entirely safe for your pooch.