Advantages of NexGard Chewables for Dogs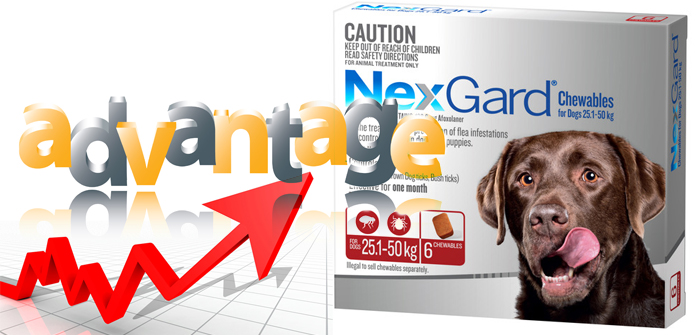 Among the many flea and tick control products available in the market, there are a few oral flea treatments that are simple to use on your pooch. NexGard chews for dogs are highly effective in controlling fleas and ticks on dogs. Seeing the necessity to easily dose your dog, NexGard comes in beef-flavoured, which is a tasty chew for your furry pal.
NexGard is an advanced oral formulation from the makers of Frontline Plus. Its effectiveness and various benefits have made it the number one choice of veterinarians. The delicious chew kills adult fleas before they lay eggs and also kills ticks. These facts are very well-known to pet parents who are aware of this product and right now using for their dogs.
But, if you are one of the pet parents who least know about NexGard then it is high time that you look into its advantages and find out how helpful this product is for your lovable companion to protect him/her from harmful flea and tick infestations.
Advantages of Nexgard chew
Nexgard is a fast acting formula.
The single chew kills both fleas and ticks.
It is safe and effective for full 30 days.
More powerful than other oral flea control products.
It is a soft, beef-flavoured chew.
Dogs readily consume it.
NexGard kills adult fleas before they lay eggs.
It prevents flea infestations.
It controls black-legged tick, lone star tick and brown dog tick.
NexGard is safe for puppies 8 weeks of age and older.
The oral treatment is suitable to give dogs weighing 4 pounds of body weight or greater.
It is easy to dose your dog, as NexGard can be given with or without food.
There are no known contraindications for the use of NexGard.
Nexgard began to start killing fleas four hours after initial administration.
It prevents subsequent flea infestations after the start of treatment of existing flea infestations.
It is easy to administer as it comes in bite-sized chew.
NexGard kills 100% fleas within 24 hours.
The oral treatment has long shelf life as its expiration date is two years from the date of manufacture.
As NexGard is oral treatment, there is no effect of swimming or bathing.
This flea control product is safe to use along with other treatments like vaccines, antibiotics, anthelmintics, etc.
NexGard is safe to use on any breed of dog when used as directed.
Treating your lovable pooch regularly with NexGard will not only kill fleas and ticks but also protect your dog against harmful flea infestation and other parasite-infested diseases. It is always good to make a smart choice, and with so many benefits, NexGard Chew is definitely the best pick for your furry pal.