Everything You Need To Know About Frontline Spray
As pet parents, you must be knowing that the most common problem affecting your furry pal is fleas and ticks. These pesky critters can crawl onto your pet's body and cause immense discomforts, most of which can be highly fatal. Such parasites tend to live and breed on the body and, if not taken care of at an early stage, they can lead to much bigger problems and health issues.
While there are many products that deal in the proper curing process of fleas and ticks, only a handful of those can be used on both dogs and cats. One such product is Frontline Spray, which is widely used by pet parents who have both cats and dogs as pets.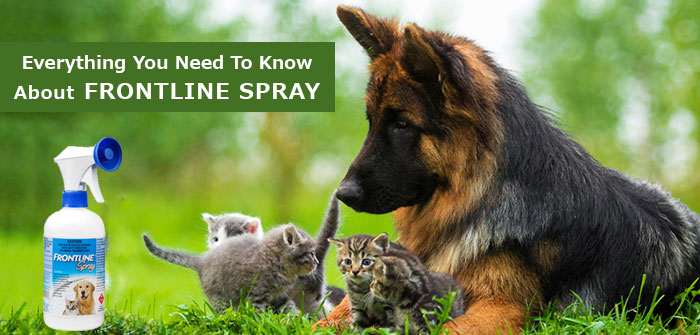 What is Frontline Spray and how does it work?
Frontline Spray is a potent solution that's main task is to eliminate and prevent re-infestation of fleas and ticks on pets. Apart from performing such tasks, Frontline Spray is also effective in controlling flea allergy dermatitis (FAD) as well.
The spray once sprayed (excluding the eyes) settles in and due to its fast-acting formula quickly spreads all over the body. It will start killing fleas and ticks within 24 hours. Once it kills the parasites completely, it will provide protection from re-infestation (upto 12 weeks).
What are the ingredients used in making Frontline Spray?
Frontline Spray contains a key ingredient called Fipronil which is a broad-spectrum insecticide that helps in disrupting the insect central nervous system and aids in eradicating adult fleas, ticks, larvae, chewing lice, and various other creepy critters.
How effective is Frontline Spray?
As you now know, Frontline Spray is a fast-acting flea and tick treatment spray, it begins its work as soon as the spray is sprayed. Within 24 hours, all existing fleas and ticks are eliminated and apart from that, it helps in protecting pets from re-infestation (approximately 12 weeks). Due to its fast-acting formula, Frontline Spray is known to be highly effective.
What are the benefits of Frontline Spray?
Frontline Spray is loaded with the following benefits:
Due to its suitability on both cats and dogs, it helps you to save big.
A super fast formula that gets rid of all existing fleas and ticks within 24 hours.
Waterproof treatment that will not lose its effectiveness despite your pet's continuous contact with water.
Highly safe for all breeds of dogs and cat and puppies/kittens above the age of two.
Easy to use and long lasting which helps in you saving big.
Not only does it cure fleas and ticks and prevents it from re-occurring, but it also helps in controlling flea allergy dermatitis.
Now that you have a fair idea about Frontline Spray, we hope you won't be hesitant to opt for Frontline Spray if and when the need arises. Also, it is very important to control fleas and ticks rather than curing it, because we all know that prevention is better than cure.