Beat The Heat: 5 Delicious Foods For Your Dog This Summer
Are you a big-time dog lover and always look for one or the other way to treat your dog in the best possible way? Then you have jumped to the right place to get some great ideas to serve the delicious food to your dogs in this hot season. Summer is on its way and this is the best time to hang out with your fido.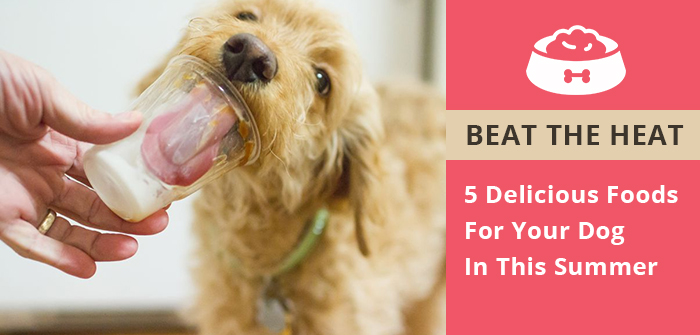 The hot temperature outside is not good all the time for you and your dog. It can elevate your dog's body temperature. The best treat in this summer to keep them cool is by adding some frozen foods into their meal. Following are some delicious treat you can give to your four-legged lover in these hot sunny days:
Frozen Chicken Bites: The easiest way to treat your dog.
Ingredients: To make the Frozen Chicken bites you need
1 cup chicken stock
1 cup Peanut butter
It goes well with 2 tablespoons parsley that works as a mouth freshener for your dog but you can skip (Parsley) if not available. 
Apple And Chicken Pup pops: In this summer you make varied dishes of delicious food for you and your family. Your dog is one of your family members. For your dog Apple and chicken pup pops is one of the best foods for your dog in this summer. 
Ingredient:
½ cup of chicken broth (unsalted)
1 Gala apple (It has mild sweet flavor)
½ cup of water
Pork rawhide stick
Make sure you use a paper cup
Yogurt popsicles: To beat the heat for your dog 'Yogurt Popsicles' will be a great treat. 
Ingredients:  You need to have: 
2 cups Nonfat yogurt
2 tablespoons Natural peanut butter( unsalted and without sugar)
1 Frozen banana
2 tablespoons Honey
Use nylon or plastic dog bones as popsicle stick
Frozen pumpkin and Banana: Sounds mouthwatering isn't it?
Ingredients: To make this tempting dish you need:
1 can of pumpkin puree
1 cup Non-fat yogurt
1 banana
1 teaspoon Honey
Green Power Smoothie: A healthy drink as the name itself suggests. The best thing about this smoothie is you can also add this to your breakfast. During the summer time, you can freeze the smoothie and serve it to your dog. 
Ingredients: 
1 frozen banana
1 cup fresh frozen spinach
1 cup torn kale
1 tablespoon peanut butter
1 ¼ cups of water
1-2 tablespoons of honey( if you are making it for you) 
Frozen food is all time the best surprise for your dog. Frozen food not only cool down the body temperature it can also reduces the boredom in your dogs.
Before adding any of the above food into your dog's meal take your vet's advice to what things to be taken care of while adding these foods to your dog's diet.