Celebrate Labour Day with Hot Combo Offers + Free Doses at VetSupply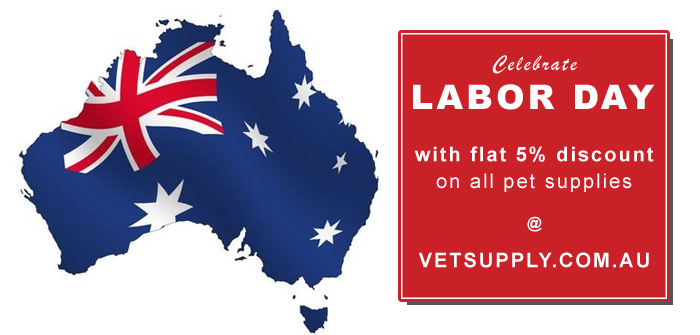 Labour Day in Australia is celebrated to honour the workers' role in contributing towards the nation's economy. It is celebrated annually with a public holiday but the date of the occasion differs across various states and territories in Australia. In the Australian Capital Territory, New South Wales, Queensland and South Australia Labour Day will be celebrated on Monday, 5th October 2015.
During this day government offices are closed along with post offices, schools and many businesses. It is a perfect occasion to spend quality time with your family that includes your pets. In conjunction to this celebrated occasion, VetSupply helps you enjoy this event even more by offering 5 % discount on all pet supplies. It is that time of the year where you can pile on your selection of pet supplies and save big on all the products.
A Quick Sneak Peak about VetSupply
VetSupply has become one of the most prominent names in the pet supply market in a very short period of time. It is one of those stores where in you can get an assortment of pet supplies from various big brands at one place. The company offers various treatments for dogs, cats and horses. You can even order pet food now. It is a perfect place to shop for popular flea & tick treatments, dental care ailments dewormers, joint care and arthritis products and heartwormers.
The company is also quite famous for offering free vet service and bulk order delivery. The products sold at VetSupply are offered at matchless prices with unbelievable discounts and with occasions like LABOUR DAY the discount rates are even higher. So you can now get high quality branded pet products at economical prices and WITHOUT the unnecessary expenditure of paying for DELIVERY CHARGES!! YES! IT IS COMPLETELY FREE!! The company also offers MONEY BACK GUARANTEE if you are NOT SATISFIED with the purchase. You can return it for a REPLACEMENT or get a REFUND. For further information, subscribe to the newsletter of VetSupply today.
What makes Labour Day sales special at VetSupply?
The most economical pet supplies store that you will ever find in Australia. You can get heavy discounted rates and quality service at your doorsteps. Thus, it is the best decision that you will ever make for your pets
On the occasion of Labour Day you can save an extra 5 % by buying quality pet supplies from the store. This is great for your pocket!!
Celebrate Labour Day with Hot Combo Offers
Get free Doses of your favourite pet products on this Labour Day Sale
The company believes in providing quality genuine pet supplies with ZERO SHIPPING CHARGES irrespective of the size of the order!! YES THIS IS TRUE!! This makes the sale even more enticing.
Celebrate Labour Day on 5th with auto delivery
Grab the occasion of purchasing finest brands in pet supplies at cheaper rates which you might have missed in the long run
The ultimate aim of the sale is to reach across the untapped pet owners and creating awareness that VetSupply is a reputed pet store offering heavy discounts on all pet supplies by celebrating different occasions. So what do you think? Isn't it the best store to grab the opportunity of piling stock of branded pet products at an amazing discount? SHOP NOW!! Reap the benefits of the Labour Day discount today.