Eukanuba for Dogs – Benefits and Drawbacks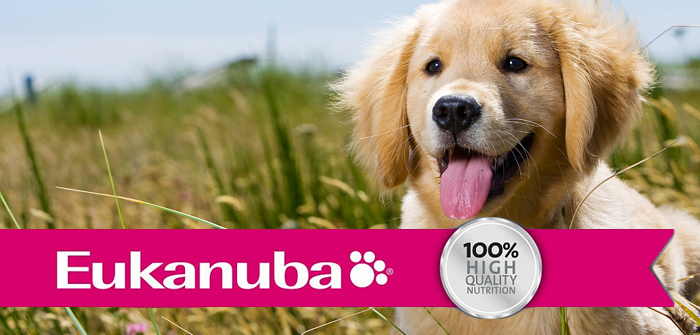 Your pet's care starts with maintaining good hygiene, giving high quality food and loving her to the fullest. Food plays a vital role in building physical health and mental wellbeing. Good quality food with adequate nutrients is essential for long term health of the pet, be it a cat or dog. Talking about canines, there can be a few that are really choosy when it comes to food. They may not eat if they do not like the taste or smell of the food. For this, choose something that is appealing for them. Eukanuba for dogs is one of the finest foods.
Eukanuba is famed for designing high quality foods for all breeds of canines. These foods are available in various kinds to assure specific organ health and overall wellbeing of the pet. It is also available in dry, wet and treat forms. Choose as per the taste of your pet. Some dogs prefer wet over dry food. There is a wide range of Eukanuba wet food. With myriad flavours like chicken, lamb, beef, turkey and more, you have many options to choose from. Select according to your pet's taste and your budget.
Benefits of Eukanuba food for dogs:
Lot of variety: Eukanuba offers a wide range of dog foods. You can select from its long list of high quality dry and canned food.
Breed specific: Buy good quality food for any breed of dogs. Be it small, medium, large or extra large dogs, you will find nutritionally rich food for them at Eukanuba.
Nutrition quotient: Eukanuba is a trusted name for highly nutritious food for puppies, adult and senior dogs. They offer nutrients required as per the age and health conditions of the pet.
Total health: Eukanuba dog food ensures health of skin, coat, teeth, energy levels, digestion and more. It covers all aspects of total health for puppies and dogs.
Pricey yet affordable: You pay the price of quality but with online sellers offering Eukanuba pet food at discounted rates, you can make big savings.
Leads pet food industry: The company leads pet food industry and offers vet recommended healthy meals for puppies and dogs.
The flip sides of Eukanuba are seldom found. All you need to do is to check if the pet is allergic to any of the food ingredients of Eukanuba health diet for dogs. Moreover, it is always recommended that you take advice from your vet and then go ahead with the selection of your pet's food. This ensures that you will buy things that suit your pet's body type and system. So, if you have not tried Eukanuba dog food yet, then just try it once and see the results for yourself!