Huge Discounts to Avail This International Homeless Animals' Day 2015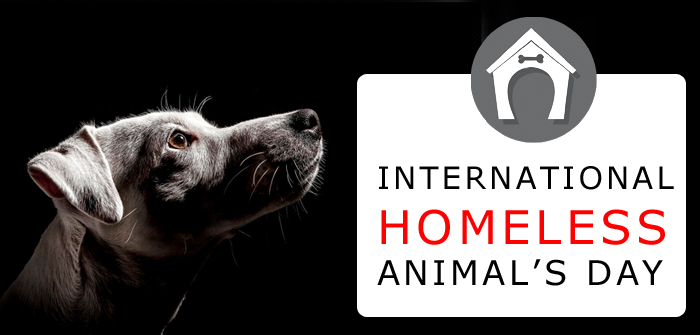 International Homeless Animals' Day is celebrated every year on the third Saturday of August. This year it will be celebrated on 15th August 2015. International Society for Animal Rights (ISAR) introduced National Homeless Animals' Day on 16th August 1992 with the intention of updating the society of an American adversity that overpowers animal shelters every year – pet overpopulation. This day is celebrated all across the world together in over 50 different countries and 6 continents saving millions of animals' lives.
When animals are left unneutered or unspayed, there is a risk that they will breed continuously, which will create the problem of over-population. The other part of the problem is puppy mills – where dogs are illogically bred and kept in tiny cages for trading purpose. All these contribute to overpopulation of dogs and cats. This leads to a situation where these animals are killed when proper homes are not found for them.
It is very important for the government and general public to know the importance of pet neutering and spaying. There is an utter need to create homes for these hapless animals and it can be realized by brooding over the issue in depth. Hence, since the inception of ISAR, every year animal lovers, animal welfare communities and experts come together to promote new campaigns, programs, and ideas to resolve pet overpopulation epidemic including neutering and spraying.
This year, various types of events are going to take place on IHAD, including adopt-a-thons, speeches, poetry reading, microchip clinics, blessings of the animals, heartfelt speeches by council members, local veterinarians, humane officers along with shelter personnel and candle-little vigils. Other activities that are going to be part of this event include slide shows, live music, games, raffles, open houses, and award ceremonies.
VetSupply has always tried to make the world a beautiful place for you and your pets. We have always turned up with our "A" game while delivering pet supplies to you and thereby pampering your pets. Hence, to celebrate this occasion, VetSupply has announced a site wide sale of 5% on all pet supplies for an entire week!! This is your perfect opportunity to get valuable pet supplies for your furry friends with slashed prices.
Advantages of 5% discount on pet supplies
VetSupply is a well-known brand in the pet industry for setting trends in providing trimmed prices on pet supplies regularly. But this time it is slashed further by 5% which makes it all the more cost effective as per your needs.
You have the opportunity to avail this discount for an entire week hence, if you forget to buy the pet supplies today you can always order
Pile up your flea and tick treatments for summer season at much lesser price
Remember we offer products at free shipping costs; as a result you can, not only procure pet products at reasonable cost; but also take advantage of free shipping along with it
So, what are you waiting for? Order today and keep your pets happy and cosy in your nice happy home!!