Insider Tips to Crack The Best Pet Supplies Deals This Black Friday Bonanza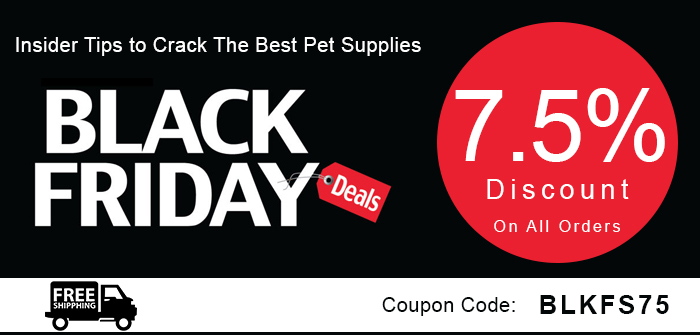 The holiday season is soon going to start. Black Friday is one of those festive occasions where you end up feeling the thrill of staying up all night shopping for your favourite pet products coupled with friends and relatives. There is also a kind of adrenaline rush in you to crack deal of the century. All these things play a big part in helping you in your big Black Friday game plan.
There are different conventional ways to shop for pet supplies on Black Friday like standing in the queue and waiting for the store to open. But in order to avoid you this inconvenience, we have given you some unconventional ways to get better deals and make this Black Friday a festive bonanza for you and your furry companion. Let us look at some of these:
Download Apps
To get mind-bobbling discounts and amazing deals on pet care supplies it is important to download the right Smart Phone shopping applications wherein you will be able to check the prices and get amazing deals that you would have easily missed elsewhere:
VetSupply
If you are looking for amazing deals on pet supplies that are already available at rock bottom prices and free shipping on all orders irrespective of the order size then VetSupply is the application that you need to download today!!! It is very easy to search for products thanks to simple navigation feature that makes surfing feel like fun. If you want to get a pet product that you ordered in the past use the reorder feature and place hassle-free orders. Available on iOS and Android.
Check The Online Pet Stores Before Heading To Local Pet Stores
Before deciding to go to local pet stores for getting pet care supplies, check online stores for the amazing deals that they are offering on the festive occasion of Black Friday. Just ensure that you consider the shipping charges that the online store is charging and also the authenticity of the shopping site so that you can get a fare deal on pet care supplies. VetSupply is one of the most relied and trustworthy online shopping destination for pet supplies.
But while you are looking for saving $$ ensure that your pet's health is fine. You can do this by stocking important pet products like flea & tick, wormers, heartwormers, joint care amongst others. Vet Supply understands that in the excitement of saving money, you would require an additional impetus on this very special day to procure the desired pet care supplies. Hence, the online shopping company is offering 7.5% discount on site-wide pet products. The shopping destination sells pet products for dogs, cats, and horses at an amazingly affordable price. It also does not charge any shopping fees on the products irrespective of the order size.
This Black Friday is your chance to get branded pet products at a never-seen-before prices. So, rush today and keep your furry companion happy and fit. But do not forget to use the coupon code BLKFS75 while purchasing the products to avail the discount. Have a great Black Friday shopping!!! Enjoy!!!