Most Effective Flea and Tick Treatment for Your Pet
With a cornucopia of flea and tick products available for your furry friend, you need to know more about these products in detail. Some are potent in killing fleas while others in ticks. Some are efficient in breaking flea life cycle where the others in controlling flea population by removing inhibiting flea eggs or flea larvae. Furthermore, there are products that repel ticks and mosquitoes, and contrarily there are these products that hold on to the infestation caused due to ear mites, sarcoptic mange or lice. Various products have their own potential and are well-equipped to march a war against particular parasitic species. However, it all depends like which parasites have infested him and which ingredient is in this product.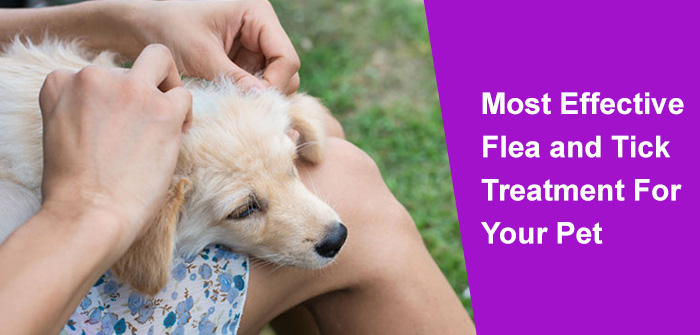 Analyzing the statistics, you may be wondering which product can best suit your furry pal, or which product can work well in your environment. After all, it's all a big rebel against pests, where you need to think which parasites your pet has been infected with and what you are looking for in a product.
Let's move further and learn about the different analogies to make a choice on a product
Killing Fleas Instantly
There are products that start working instantly and remove fleas right away. These products include medicated shampoos, sprays, dips and pour-ons or a quick-pill that kills fleas just in a few hours. Then you can carry on with monthly preventives.
Read: Know More about Fleas and Flea Treatments
Eliminating Ticks Right NOW
Looking forward to remove ticks instantly? Check for ticks on your pet, for one or two pluck them away with twisters. However, there are spot-ons or topical treatments that help in eliminating ticks rapidly in a short period.
Read: How to remove ticks on a pet
Stop Recurring Infestations
After killing fleas and ticks instantly, the second stage of war involves preparing for a program to prevent further and future infestations. There are potential flea and tick preventive treatments that are highly effective in not only eradicating the existing flea and tick infestation but powerful in controlling the future parasitic infestations. This largely helps in preventing dangerous diseases like Lyme disease, Rocky Mountain fever and other flea and tick-borne diseases. These powerful preventatives help in keeping your furry pal healthy and free from fleas and ticks year long eliminating a need for urgent vet visits due to heavy parasitic infestations.
These preventatives are usually monthly topical treatments and should be applied every month. And, for effective hold of fleas and ticks, lowering the gap of treatments, it is much better to stick to the same date of every month treatment strategy. This hugely helps in rendering the safety of your furry friend from any unwanted flea and tick conditions.
Apart from monthly topical treatments, flea and tick control products are also available in spray, collar and chew forms. Some collars can last for as long as 3 to 5 months, such as kiltix collar, Preventic tick collar or Seresto collar. However, it is advisable to look for the infestation ratio in your region before making the ultimate choice.
Added to this catalogue of flea and tick treatments are the oral chews, which can be readily accepted by your furry pals as these comes in flavours.
Talk to your Vet
Whenever you are confused about selecting the right flea and tick treatment, it is always good to talk to your vet. Experienced in providing the accurate treatment, your vet can direct you a customised flea and tick prevention program that can work perfectly for your furry friend according to the rate of infestation and your region. So, why not march on and get well-equipped with the products to provide a pitch-perfect flea and tick prevention program to your furry pal.