Nexgard Chewables for Dogs – Killing Fleas and Ticks Effectively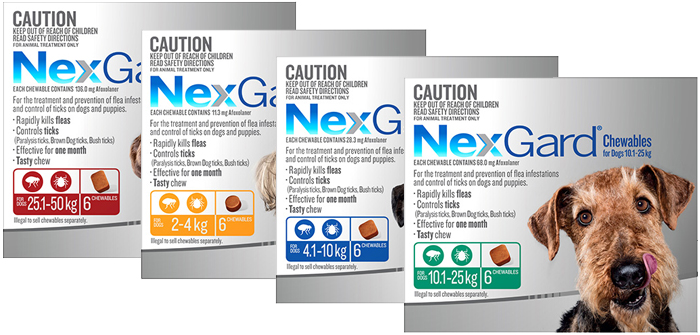 Every pet that goes outside should be treated with a preventive treatment. It has been observed that fleas and ticks do not affect pets during the winter season it is significant to remember that fleas often thrive inside the winter season and ticks are out looking for a blood meal in cold temperature. If you stop these treatments during winter it is advisable to start soon the winter season is over.
Nexgard Chewables are monthly chews that prevent fleas and ticks on dogs only. The beef flavored soft chew is highly palatable and is even liked by fussiest of eaters. Nexgard, a Merial product is the same company that distributes Frontline Plus. There are different advantages of Nexgard Chewables. Let us look at them.
Advantages:
It is a chewable treatment
It is easier to administer
Sometimes topical products are difficult to apply on very hairy / fluffy dogs this is where this oral treatment comes into picture
There is no greasy residue on the hair coat of the dog
Dogs can easily swim and bath without any trouble after administering this treatment
Side effects:
Can lead to vomiting, diarrhea and dry skin
Side effects seem to effect less than 1% of all dogs according to trial studies
Dogs with history of seizures should not be given this treatment as it may lead to increase in frequency of seizures
Nexgard Chewables has afoxolaner as an active ingredient. It is a new drug that has not been used in any flea and tick treatment currently assessable in the market. This active ingredient penetrates in the blood stream and does not enter the surrounding tissues of the dog so that fleas and ticks do not bite your pet after the treatment. Fleas are killed within a few hours while ticks are killed within 1-2 days time.
Note: Nexgard does not repel ticks. Ticks are killed before they get attached to your pet so that they do not transmit any disease to your dog. Nexgard is a demonstrated treatment that kills all tick species encompassing deer ticks, dog ticks and lone star ticks. If you have not tried this ingenious treatment, try it once and reap the benefits of it today!!