Top Five Pet Health Care Trends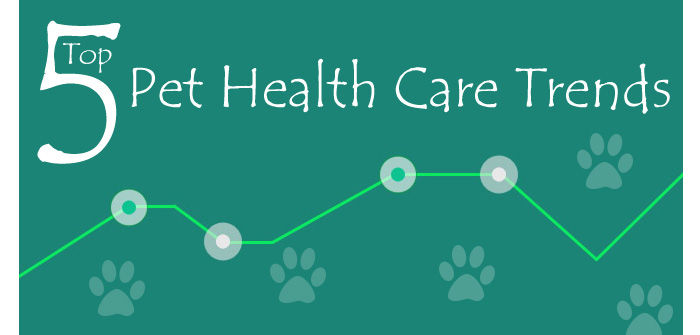 World pet industry is growing dramatically with more and more people owning pets and top companies indulging in manufacturing result-oriented pet medications and treatments. With this booming market, let us find out what is trending in pet health industry.
From our editor's desk, we bring you the top five trends that are creating huge impact in the pet health care industry.
Holistic Treatments
With the adverse reactions of pesticides and insecticides, most pet parents are looking for holistic treatments for their companion animals. Moreover, many pet health care supply agencies are offering natural products for preventing animal diseases. Manufacturers are also turning to developing treatments with least chemicals involved. They are looking forward to bring pet health products that have minimum side effects.
Women Veterinarians
Until past few years in US, veterinary industry used to be male dominated. However, with women penetrating in every domain, female veterinarian ratio is growing immensely. According to the American Veterinary Medical Association, the current enrollment in veterinarian medical colleges is approximately 80% female.
Exotic Pets
More and more people are adopting pets with no specified reason pertaining to this. However, owning an exotic pet is a trend currently. Numerous surveys and pet market research say that the sale of exotic animals has increased with rising interest in such creatures and the internet makes it easy to trade. Exotic commonly refers to amphibians, reptiles, birds and small mammals.
The main reason behind owning these pets is unusual as they can be suitable for people with allergies or that they need less space compared to a dog and cat.
Pet Insurance
The increasing cost of pet health care and tremendous rise of pet surgery cost, Pet Insurance is in the trend. Most pet parents are concerned about their pet health parallel they are concerned of their budget also. The high cost of pet supplies make it imperative for them to look for the option where they can have pet health care at minimum cost. Pet Insurance helps pet parents to look after all their pet medical treatments saving more.
Mobile Technology
Mobile technology is a new platform that plays a gigantic role in helping pet parents. Different apps and mobile friendly sites are helping animal owners to purchase preventives and treatments at fingers tip, apps to remind them about dog/cat meal time, monthly flea and tick treatments, vaccinations and veterinary visits.
There are certain apps also that help pets suffering from behavioral problems. Some apps work as webcams ensuring the safety of your furry companions when you are out for work.
In short, with continuous support from veterinary industry and pet care supplies, people can provide the best care to their animal companions making special space for them on this earth.