Nexgard Review – A Detailed Review of the Most Popular Oral Flea and Tick Control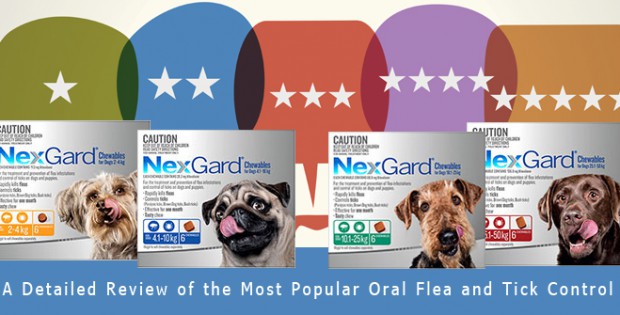 Are you surfing around for nexgard reviews? You are the right place. With so many things said about this oral flea and tick prevention creating lots more confusion in pet owners, we thought to bring here the correct information for which you may be looking around.
With so many pet parents complaining of constant flea infestations and havoc it plays on pets, researchers and pharma companies are constantly working hard to bring out new treatments. Innovations are always taking place to develop more advanced and effective flea preventives for dogs. For treating fleas, normally a huge palette of topical treatments is available in the market. However, to avoid the wastage of topical preventives when your dog runs out directly into the pool – scientists and vets have come up with Nexgard chewable – the first of its kind oral flea treatment.
Wondering!!! What is Nexgard.
Nexgard is a product from the house of Merial, which is one of the trusted animal health care manufacturers and it is the same company that formulates Frontline Plus, which is one of the recognised brand in flea and tick control products.
This chewable tablet kills 100% fleas within 24 hours of its administration. Endorsed with beef flavour, this soft chew is a great treat for dogs and highly preferred by owners.
With Nexgard, get rid of the messy topical treatments where you need to make your pet stand for long and soil your hands with the solution.
Speculating!!! How long lasting and effective it is.
Developed with advanced technology, Nexguard is highly effective in treating fleas and protecting dogs from harmful flea infestation. Being absorbed in blood stream, Nexgard is released slowly for one month and thus, fight against fleas for 30 days. In 24 hours, it removes all the fleas and don't worry if your dog still itches after 24 hours. This is because flea bites that your dog already has and it will go away in a day or two.
It is highly effective against fleas and ticks, and makes the best choice for oral flea control treatments. If you are looking for the best alternative for topical treatment, then this is your right pick.
Hmmm!!! What about benefits.
Not limited to just one or two, there are a few more benefits of Nexguard.
The oral treatment is easy to administer.
The beef flavour makes it easy to take by even the fussiest dogs.
Works for one full month.
It protects dogs from both fleas and ticks.
A mess free treatment that makes your pet happy.
No residues, discolouration of the pet's skin.
An affordable alternative to topical treatments
Thinking!!! Is Nexgard safe.
Scientifically developed under the guidance of world renowned scientists and researchers, following the strict pet and human safety guidelines, Nexgard is definitely a safe treatment. It is a product that you can rely on with no dangerous conditions noted yet in dogs.
Then!!! what about side effects?
Though, no possible side effects noted yet, Merial says that in some cases, there may be some rare side effects seen such as lack of appetite, vomiting and dry or flaky skin. These symptoms are rare and can go away slowly. In case, they persist then immediately contact your veterinarian.
Well, with hundreds of positive Nexgard Reviews to look at on the virtual platform, you can definitely rely on this oral chew for controlling fleas and ticks on your dog. And, don't forget it lasts for a month, so you can be rest assured that your dog has total protection against flea and tick infestation for full 30 days.