Tips to Choose Heartworm, Flea and Tick Preventives for 2016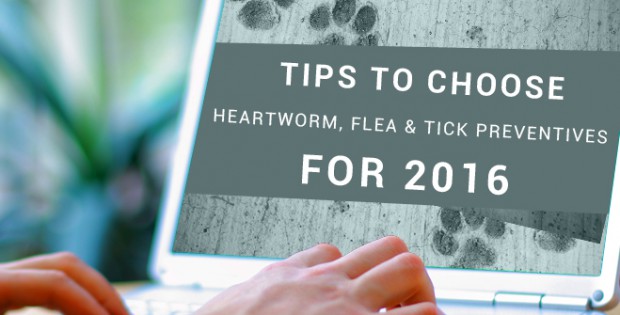 Starting of a new year brings in new aspirations and things to consider when we are keenly interested to protect our furry pals for the whole year from the harmful parasitic infestations. Among the various pet diseases, flea and tick as well as heartworm infections are the most common. With utmost concern for our pets, we always look for the most effective and highly reliable preventives to control these infestations on our lovable companions. And, choosing the monthly preventive is a paramount part of our pet care ritual.
With the fresh beginning, let's consider these great tips to select efficient treatments for our furry friends.
Learn about your pet's weak points and personality
Before putting your selection on flea, tick or heartworm preventive, you need to consider and ponder about the lifestyle of your pet. Sharyn Schroder, a resident of Gold Coast, asks our Vet whether to switch to Frontline Plus from Advantix for controlling heavy flea infestations. For detailed conversation visit our "Ask a Vet" page.
Our vet advised to consider the environment and the time of the year for getting better success as both the products has the same effectiveness. If you're residing near sea or lake, where your pouch loves to swim most of the times, then considering flea and tick collar can be more effective. Likewise, considering the risk factors works the same with your felines. Joanna says pipi (her cuddly naughty cat) gets irritated with smelly topical products applied to her fur. In such cases, oral treatments like Comfortis might go well with the fussy purrs.
Some aspects to explore:
Does your pet is an indoor or outdoor animal?
How much time does it spend in water or playing outside in the grass, woodland or backyard?
Does your pet easily take the pill?
How frequently do you bath your pet (in case living in marshy lands where you need to give regular baths)?
Will your pet wear a collar?
Consider Accountability
Well, how many times have you missed that dose of monthly flea and tick preventive or struggled to remember giving heartworm preventive on time. Let's face it. Monthly protection is quite important, so when selecting a treatment, think realistically how well you will be able to use them. For example, you have a pernickety pup it is likely that he would not easily accept the normal heartworm preventive. Opting for a Sentinel Spectrum chew may work well. Are you forgetful like me when it comes monthly flea and tick treatment, then Bravecto can be a better option as it protect pets for 12 weeks or can use a Serecto collar for 8 months flea and tick prevention.
Price Comparison
Budget always play a role when we are looking for best treatments for our lovable companions. Selecting an auto delivery option at our site for year round treatments can be very affordable. Similarly, you can avail great deal and discounts on treatments by subscribing company's newsletter. The other way round considering "New Year Bumper Sale" will help you save huge bucks on keeping your pets healthy. Not limited to this, buying a whole year prevention stock also helps you save a lot on your pet's flea, tick or heartworm preventives. With so many options open for you, why left out. Just pick the product that you and your pet are most comfortable with as well as that falls in your budget.