Top 5 Things to Decode a Dog Food Label – Part I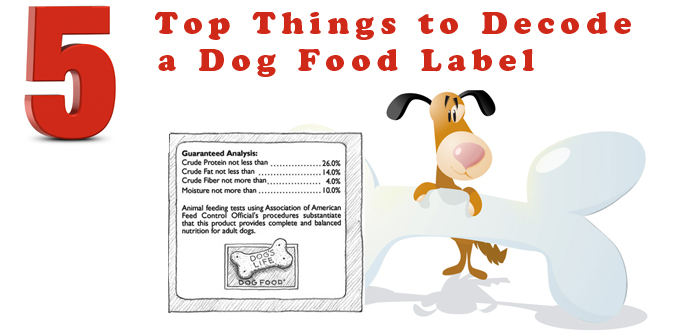 There are different terms that make their way on the dog food label. Some of these terms include: beef-flavored, natural, gluten-free amongst others. So, the basic question is how you know which of these is essential for your pet and which one to be avoided because they are there just for the sake of serving the marketing purpose. According to an expert Vet, let us now learn how to decode the significant things that are there on your pet's food label:
Scrutinize the guaranteed analysis
The very first statement that you will find on a dog food label is the mandatory guarantee that underlines the percentage of different components in the food. These components include: fat, moisture, fibre, and crude protein. Be aware of the fact that dry and wet food utilizes diverse standards. That is, the percentage of components in wet food is different than the dry food.
If you wish to compare the different ingredients present in the wet and dry food you can do it easily by converting wet food into dry food through the internet. Or the best alternative is to ask your vet to give you the break-down. For example; if there is 10% of protein present in canned dog food the same percentage would not be there in dry food. Note: Wet food always has a lower percentage of ingredient present than dry food. The reason for that is that canned food consists of 75-78% of moisture while dry food has only 10-12% of water.
Select the food that best suits your dog breed
You will find different labels on dog food. For example; small breed formula, large breed formula, etc. So, it is very important to consider the different size-specific formulas that assist in shaping the decision of what food is the right fit for your pet. This depends on the right quantity of calories and nutrition for your dog.
Continuing from the example given earlier, if the dog food is labelled as small breed formula, it connotes that this food is specifically for toy dogs like Chihuahuas with kibble that is smaller with serving size that is lower in calories. While a large breed puppy formula would provide nutrients to lessen diseases like arthritis on your pet in the long run.
Inspect allergies in your pet
There are certain ingredients which can cause allergies in your pet. Some of the common food allergies in dogs are cited by beef and dairy products. So, if you find that the ingredients present in the dog food are touted containing beef and dairy products, take the opinion of your vet before purchasing the food. This is normally a trustworthy claim. If you are in doubt, scrutinize the ingredient list before purchasing the product.
Look at the ingredients of the dog food that contain plenty of protein sources
You can find the ingredients on dog food labels listed. Hence, if you are looking for good protein sources in the diet, and then the ingredients that need to be on top include: beef, fish, lamb and chicken. Expert vets suggest that chicken meal (dehydrated chicken) contains more protein than fresh chicken (which is 80% water). The same thing is applicable to beef, lamb and fish. Hence, if chicken meal or beef meal is on the top of the ingredient list, you can be sure of the fact that your pet will get adequate amount of protein in the diet.
Unearth flavour ingredients in the diet
On the pet food label you will find different flavours like beef, tuna, chicken or meat. However, if the pet food has high amount of protein ingredients the additional flavours prove to be needless. Hence, you need to verify whether proteins are present in the first few ingredients of the food or not. The other important thing to be considered is the fact that flavours should not be used to cover up a grain-heavy formula. If you need to opt for a flavour then beef flavour needs to be selected rather than meat flavour.
These are some of the top things that you need to consider while purchasing dog food. However, this list is not exclusive and there are several other things that need to be decoded. Hence, we have divided this blog into two parts. In the next part we will further discuss on nutrient levels, recommended dosage, and supplementary food that is a main requisite in dog food.