Your Pet will never feel lonely in your absence with the help of Pet Sitting Services offered by Mad Paws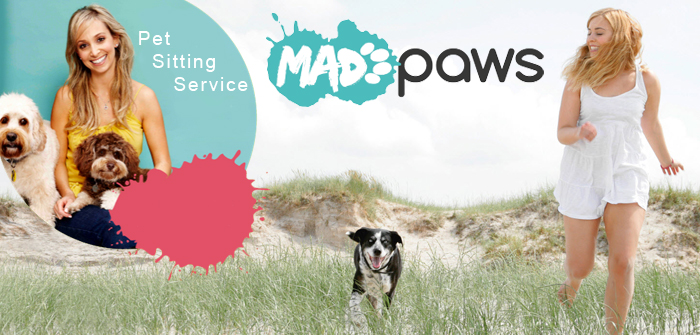 Sydney, Australia – When you are away on holidays there is always a twinge of guilt inside you about the whereabouts of your pet. You always worry about how your pet is doing in your absence? There are lots of options available to you including Kennel for your four-legged friend, but you would not want your furry friend to get jailed in limited space and being able to get out in open just for an hour in a day. That is really like a jail. But there is no need to worry as there is a new service launched by Mad Paws for pet sitters and it has become one of the largest pet sitting services in Australia recently. It has been endorsed by Bondi Vet Dr. Lisa Chimes.
Mad Paws is an Airbnb-style website for pet sitters. It has been a year since its launch and it already has more than 3500 pet sitters on the website who will take care of your four-legged friend while you are holidaying during vacations.
According to Mashable, "The idea of the website came to the co-founder and CEO Alexis Soulopoulos while he was pet sitting for his friend who was finding it difficult to locate a safe place for his Labrador to stay while he travelled."
The ingenious website now assists pet owners to find local, vetted sitters for their pets which make them assured that their pets are in safe hands while they are holidaying during vacations.  The start-up charges 15% of the pet sitter's fees which is far less than the cost of a kennel and there is an assured guarantee that the pet sitter will take care of your pet with love and warmth.
You can locate a pet sitter by entering your state and the type of your pet. You also need to provide the dates on which you are traveling. Once you have provided the details you will get a list of probable pet sitters with details on their home, other pets and their prices.
There are quite a few pet owners who have utilized the services offered by this ingenious start-up and have quoted positive feedback about the website. One of the customers Miss Elise wrote, "My little pooch was delighted when he saw me after a long break. The great part was that he had bonded quite well with the pet sitter. Now I have renewed faith in the pet sitting services offered by Mad Paws and would like to avail their pet sitting services on a regular basis."