5 Reasons Why You Should Feed Canned Food To Dogs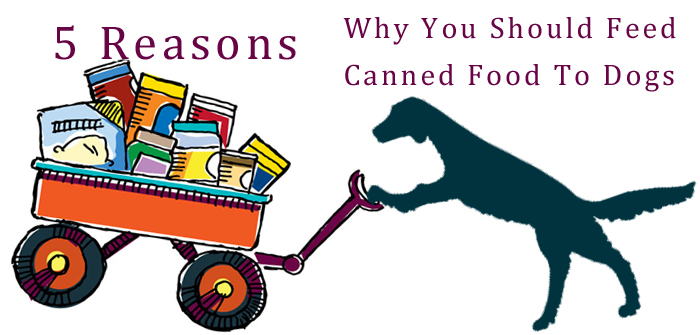 Food plays a vital role in the development of canines like it does for all living organisms. In case of dogs most owners prefer kibble over canned food for various reasons. The main reason behind ignoring canned diet is its cost. Canned food is much more expensive than dry food. The other reasons may be its smell, pseudo truth about dental issues that pets might have to face because of wet food, or the extra work involved about handling the container and the remains.
Although canned food is costly, there are many benefits that could help you in maintaining your pet's health. Here is a list of 10 benefits of feeding canned food to your pets. Let's have a look and change our negative mindset about canned food!
5 Benefits of feeding canned food to canines
Tastier than kibble: The most alluring benefit of wet food is that it is mouth watering. Canned food may be the best option for fussers that throw tantrums at meal times, especially senior dogs as they lose their sense of taste with time. So if you want your pooch to be excited during meal times then you may need to try canned food. 
Lesser preservatives: Some Preservatives can be naturally derived that may be a little helpful to your pets as that content does not occur naturally in pets. However some have carcinogenic effects and may harm your pet's health. Now, a pack of kibble lasts long needing a longer shelf life. Thus there are more preservatives in dry food and canned food comes in lesser quantities which once opened, may get over real fast. Preservatives are in much lesser amount in wet food which is good for your pet's health. 
Canned food has more meat protein: The reason behind canned food being expensive is that it has more meat than dry food has. Dogs need more protein content and few grain sourced carbohydrates which canned foods has in a perfect proportion.
Wet food is low on carbs: Carbohydrates act as binders and thus are used generously in dry food. Whereas there is no such need of carbohydrates in wet food which ultimately cuts down the carb intake of pets if fed canned diet to them.
Prevents bloating: One reason of bloating in pets is water absorption from the body. Wet food has higher water content than dry food and thus feeding wet meals will provide the water content needed by the body preventing bloat in pets. The other reason of bloating is gulping down the food which usually is the case in dry food. Canned food cannot be gulped easily by pets and becomes an indirect prevention of bloated belly.
Are you ready to introduce canned food to your pets? If you find the above mentioned benefits useful, try canned food for your canines after consulting your vet and observe the positive changes.