7 Effective Tips to Keep your Tabby Healthy & Happy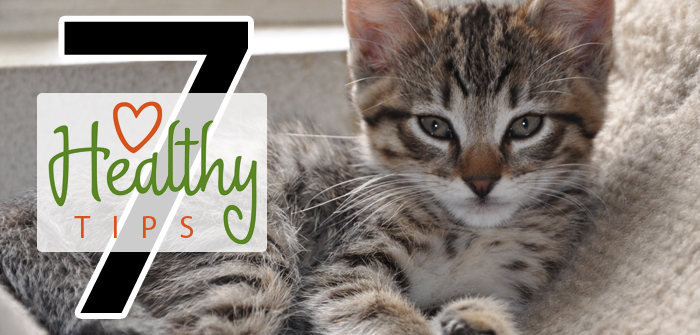 It is always great to own a cat. It makes your life very enriching plus it gives your little tabby an opportunity to feel the warmth and caring under a roof. It is true that cats were first domesticated by human beings approximately 5,000 years ago and were utilized to assist farmers in protecting their crops from mice and other rodents. But their popularity has not phased one bit till today. In fact we have seen the number of pet cats risen significantly in recent past. But with the increase in the population there has been an increased awareness about keeping your pet cat healthy and happy. This can be done by ensuring the following things:
Cats are prone to kidney infections due to the fact that they do not drink water frequently. The best way to protect your tabby from kidney infection is to provide fresh water all the time to your furry friend along with nutritious food and a clean little tray.
If your tabby does not drink adequate water then the best possible solution would be to give them canned food as it contains adequate amount of water that can assist your pet to remain healthy and happy. Some of the canned food that you can introduce slowly to your pet include: Advance Adult Cat with Chicken & Liver Medley Cans, Advance Kitten with Chicken & Salmon Cans, Fancy Feast Gourmet Fish & Prawn Medley, Hill's Ideal Balance Slow-Cooked Chicken Recipe Feline Cans, and Royal Canin Babycat Instinctive Cans. If the cat does not get accustomed to the canned food it can lead to messy litter boxes or vomiting pets. Hence, it is always the best idea to check with your veterinarian before introducing the canned food to the pet.
It is always crucial to take your tabby to veterinarian for annual visit and also protect them from flea and worm along with an apt veterinarian schedule. You can utilize Frontline Plus, Capstar Flea Control Tablets for Cats, Revolution for Cats, Activyl and Comfortis for Cats to protect your tabby from flea and ticks. For worms you can utilize Milbemax Allwormer Tablets, Profender Allwormer, Drontal Wormers – Cats or Felex Plus Allwormer Paste.
It is very important to microchip your furry friend especially if your tabby is an outdoor pet. You should also ensure that the registration details on the microchip are up to date so that when the lost pet is found by shelter homes and rescue groups they can take them back to you. It is also recommended to place your phone number on the collar of the tabby along with nametag. You do not want your lost pet to not make home due to your negligence. You need to register your pet in a council by visiting them personally or visiting their website.
Outdoor cats are prone to accidents like getting hit by a car, fighting with other cats, contracting diseases or even getting locked in sheds or garages. The only way to protect them from these things is by keeping them indoors during nights. This will protect them from the dangers lurking outside in the night.
If you have kids around, it is best to teach them about cat body language. This will ensure that both your kids and tabby can remain safe and happy in each other's company.
Different cats have different preferences and personality and so it is best to understand their personality before adopting them. There are certain cats who love to be centre of attraction. They enjoy plenty of attraction while there are other cats who like peaceful environment. Hence, it is very important to understand their preferences before adopting them. The best place to get your furry friend is from a foster care. This way you can get to know about the kind of environment liked by your tabby.
It is always an enriching experience to pet a cat. It can not only bring joy in your life but can also make your tabby's life fulfilling. Reap the benefits of a prolonged friendship with your kitty while also making sure that they learn quite a few tricks from you to make their life enriching and satisfying.