Panoramis – How it is effective for my pet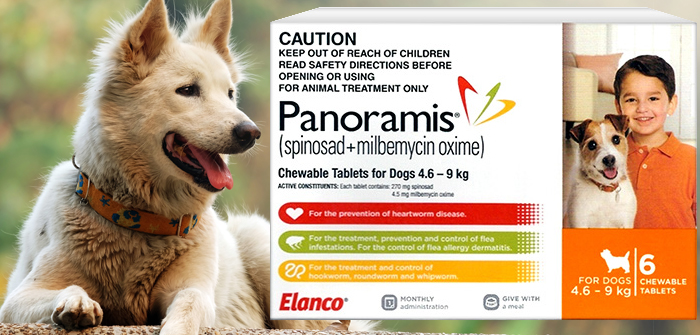 An Elanco product, Panoramis are tasty chewables used for monthly administration for dogs. A multi parasite treatment, this chewable works well in eliminating fleas, heartworm, hookworms, roundworms and whipworms in 8 weeks and older puppies and dogs. The chews prove to be excellent preventive as well as treatment for all breeds of dogs.
Find here some of the most frequently asked questions about Panoramis:
Which parasites are treated by Panoramis?
Panoramis is an effective treatment for destroying heartworm larvae. It also kills fleas found on the pet's body. Again, it is an ideal treatment for controlling intestinal worms including roundworms, hookworms and whipworms.
What is the method of administration of Panoramis?
The tasty chew can be given directly in the pet's mouth. For maximum effectiveness, give one tablet per month after the meal. This single dose treatment will take care of mixed infestation and relieve the pet of annoying pests.
How long will it take to kill fleas?
Panoramis starts killing fleas within 30 minutes of administration. It destroys 100% of existing fleas within just 4 hours. It prevents future infestations by killing fleas before they lay eggs.
Why do I find worms in my pet's feces even after giving panoramis?
It is possible that pieces of worms are found in the pet's stool after administering panoramis. These are expelled by the pet as a result of the treatment. This is completely normal however, detailed explanation can be given by your vet on this.
Can I split the tablet and give to my two pets?
No, giving half the dosage is certainly not a good idea. You can choose from the different packs categorized as per the weight of pet. Choose the pack that suits your pet's weight and give full dosage of the tablet to your pet.
Is it suitable for my breeding or pregnant pet?
Check with your vet before giving the panoramis chewable treatment to your breeding or pregnant dog. Give it only after the risk benefit analysis done by a qualified vet. Although it shows high level of safety, check with your vet before giving it to pets that are on medication.
Where can I buy panoramis at discounted rates?
There are various online stores that offer this treatment at much discounted rates. Find them over the web and choose a supplier that offer maximum discount and free shipping. This will reduce your total budget to a bare minimum.