Queensland Vets slash De-sexing Fees to Promote Birth Control of Pets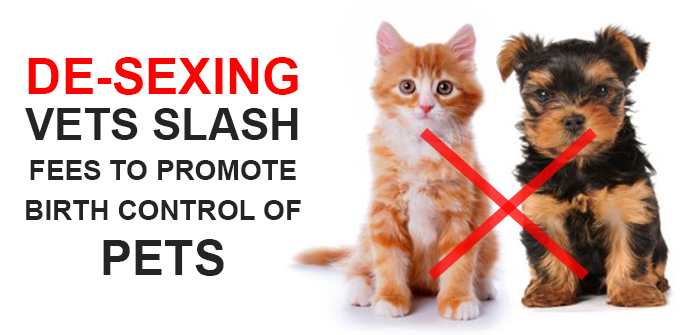 Queensland, Australia – Approximately 200 vets in Queensland have reduced their fees for de-sexing pets by at least 20% for three months starting from May so that there is a control on the number of unwanted or unexpected kittens and puppies in Australia. It has been observed by RSPCA that there is an over-population of pets all across Queensland and of course Australia. And, if proper steps not taken then most of the pets may end up on the streets.
According to Michael Beatty, a reputed RSPCA spokesperson, "A befitting example of the scenario can be envisaged from the fact that there are nearly 45,000 animals that come into our care every year and most of them are de-sexed hence, it is very important to carry out this program. As a matter of fact, in Australia for a household consisting of five members there would be a need to adopt 30 cats and 10 dogs to maintain the over-population of animals in Australia." He further added, "There is an ever-increasing population of feral cats and wild dogs due to the fact that people are not willing to de-sex their pets. If the birth control of pets is not promoted instantly it will have a huge impact on the overall environment of the country."
According to figures from the RSPCA, in 2014 there were more than 6000 extra animals which were de-sexed in the country. This year the figures are going to increase and hopefully more and more vets and councils will openly support this initiative. This is a fight against over-population of pets which should not be given up by Australia.
There are lot of positives of de-sexing the pets. Some of them include:
It rules out unwanted litters
Reduces the pet's desire to roam
Decreases the risk of certain cancers in pets
Curbs unwanted behavior of pets like urine spraying in cats
Leads to cheaper council registration fees
Enables pets to lead a healthier and happier life
Apart from these benefits mentioned above, as a pet owner, you can also get financial rewards and responsible pet ownership incentives that will give you an extra motivation to de-sex your pet. On top of it, you can get prizes worth $500 for Pets gift voucher or two Harley Davidson motorcycles. So what are you waiting for? Participate now at www.operationwanted.com.au or visit https://www.rspcaqld.org.au/ to learn more about the benefits today!!