Revolution for cats and dogs – Best debugging solution!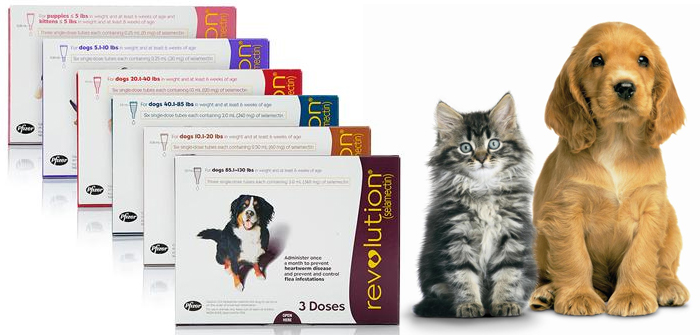 Revolution is famous for killing fleas and preventing heartworms in cats and dogs. The topical treatment has shown high success ratio as a multiparasite treatment. Easy to apply, this treatment is suitable for 6 weeks and older dogs and 8 weeks and older puppies. It also controls ear mites and sarcoptic mange in dogs. Again it has proved its mettle in destroying hookworms and roundworms in cats. So, basically a powerful parasite treatment, this spot-on works for all breeds of canines and felines.
Is Revolution the best treatment for mixed infestations?
YES! The monthly spot-on treatment kills adult fleas before they lay eggs. This way it reduces flea population by blocking their reproduction. It kills L3 stages of heartworms and thus stops infection to other pets. It is not suitable for adult heartworms. Again, only a single dose of this treatment treats ear mites and aids in healing sarcoptic mange. It also prevents further ear mite infections. Thus, if your dog faces attack of more than one parasite then Revolution works best for him.
For cats, Revolution spot-on is applied since they are 8 weeks of age. The topical solution prevents development of adult heartworm. in addition, it treats and controls two types of intestinal worms. It also is good for getting rid of ear mite infections in kittens and cats. So, if you are on the look out for a treatment that clears off mixed parasitic infections in felines then Revolution is a handy solution.
Safety measures:
Revolution shows high level of safety on 6 weeks and older dogs, 8 weeks and older cats, adult and pregnant cats and dogs. It is even suitable for ivermectin sensitive border collie breed of dogs. Selamectin, the active ingredient has proved safe when made to go through clinical trials. This way, the treatment is safe, effective and fool proof.
Major Benefits:
The major benefits is that you just need one administration a month. This once in a month treatment will not only destroy harmful parasites but also prevent diseases caused by them. Another major advantage is that you just need to mark one date on which you treat the pet and not separate date for different parasitic treatments.
To conclude, Revolution is an easy to use spot-on solution for cats and dogs. It saves the pet from deadly parasites and harmful diseases. Vets recommend this treatment to pets that are non allergic to selamectin. So, if your pooch or pussy is facing parasitic attacks, then trying Revolution is one of the best alternatives. Use and check for yourself!