Get up to 50% Discount on Pet Food and up to 35% Discount on Pet Supplies This Halloween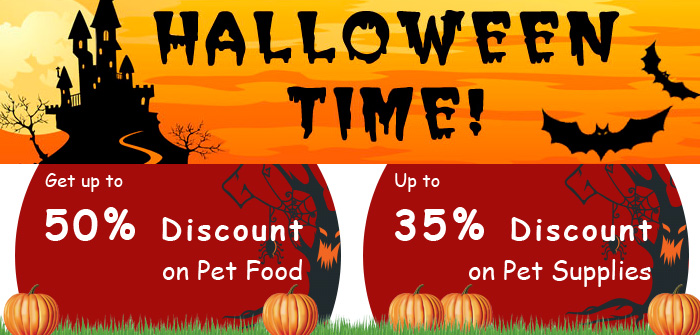 Halloween, also widely known as Allhalloween, All Hallows' Eve, or All Saints' Eve is a yearly celebration that is observed in Australia and many other countries on 31st October, the eve of the Western Christian feat of All Hallows' Day. Halloween is a pagan festival that has been celebrated since last 2000 years. This pagan holiday is also renowned as Samhain, a harvest festival that was celebrated with huge bonfires to mark the conclusion of the Celtic year and the commencement of the New Year.
On this very day Celtics alleged that dead souls wandered the streets during nights. Hence on the Samhain day, they left gifts and sweets outdoors to please the evil spirits. It was also the occasion to pray for good crops for the next year. Due to its popularity with the Christianity the Orthodox Church decided to honour the dead souls of saints by celebrating All Saint's Day on November 1st. The day before that was known as All Hallows Eve now known as Halloween.
During Halloween people dress in haunted costumes to replicate the Halloween theme. These parties encompass ghost tours, walk and hunt during this time of the year. Australians take part in trick-or-treat adventures that entail structured groups of parents and children visiting neighbours. The children either get a treat or present a trick to their neighbours. The origin of Trick or treat ritual that happens every Halloween comes from English medieval practice of "souling", when poor people would go door-to-door offering prayers for All Souls Day in lieu of food.
To celebrate this tradition of Halloween, VetSupply announces a weekly sale on account of the Halloweens Day from 31st October 2015 to 6th November 2015. You can get huge discounts on your preferred Pet Supplies and get up to 35% discount on all pet supplies and up to 50% discount on all pet food brands. You can now shop for your favourite products for canines, felines and horses during this sale to get economical advantage. You can even get discounts on food items for cats and dogs.
What has VetSupply in store for you?
VetSupply is recognized as one of the prominent pet supplies store in Australia. It has gained the reputation of being one of the economical destinations for pet supplies in a very short period of time. In the store, you can get a wide array of pet supplies from different brands at one place. You can get different types of treatments for dogs, cats and horses.
There is an addition of pet food option now in the store wherein you can get diverse types of food options for your pet. In addition to this, it is the perfect shopping destination for procuring popular flea & tick treatments, all wormers, joint care and arthritis products along with heartwormers at one place.
You can even get free advice from vets from the website by opting for free vet service. Get huge discounts on bulk order delivery. You can acquire best pet care products at cheapest possible rates in Australia and with Halloween celebrations the prices are going to be cut even more. So now you can not only get branded products of high quality at cheapest possible prices, but also avail the benefits of free delivery charges. Yes, you heard it right. IT IS TOTALLY FREE!!
On top of it, in case you are not happy with any of the pet care products offered by the company you can always opt for MONEY BACK GUARANTEE and get a REFUND or REPLACEMENT of the product. For availing special offers by the company subscribe to the newsletter of VetSupply now!!
Halloween's Sale – What you can avail now or stand a chance to miss:
Avail the benefits of hot combo offers on Halloween's Day
Celebrate Halloween's Day from 31st October to 6th November with auto delivery feature
Get a chance to purchase finest branded pet supplies at the lowest possible rates which you might have missed earlier
Get specially discounted pet supplies that you will ever get all across Australia. In addition to this, you get quality services at your doorsteps at zero shipping charges (That is totally insane isn't it?)
Get up to 50% discount on all pet food offered by VetSupply
On the occasion of Halloween's Day you can get up to 35% discount on top of the already discounted rates by purchasing quality pet supplies from the store. So you save a lot of money in the end!!
In the end, this Halloween you can get highly affordable pet care products at your door steps. This discounted price has been kept to ensure that pet owners get to know about VetSupply as the best alternative to procure pet supplies. So what do you think? This is the time to make the most of the opportunity to stock your favourite pet care brands. Also, do not forget to share the news with your friends and ask them to join you on this extravagant sale to save big on all pet supplies. Shop today and avail the benefits of Halloweens discount!!